Drink: A lush, lightly-sweet, low-alcohol dessert wine like Moscato d'Asti, or my nerdy pick, the Marenco 'Pineto' Brachetto d'Acqui 
I can't get enough of ripe, juicy strawberries when they are in season. We mostly devour them straight up, with breakfast. But we were having a few friends over for dinner recently, and I wanted to showcase the first beautiful strawberries of the season in a dessert. Preferably one that went with a bottle of dessert wine. Somehow I have ended up with loads of random sweet-ish bottles in the wine fridge that I gaze at fondly but rarely bust out. Except at dinner parties. So a wine-friendly dessert at these gatherings is a must; luckily, strawberries make excellent wine partners.
They also make a fantastic dessert, especially when paired with the slight bitterness of almonds. I got the idea to bake them into a crisp with Amaretti, the Italian almond macaroon cookies, from one of my favorite cookbooks, Cannelle et Vanille. I adapted Aran's recipe to make it vegan (I like to use coconut vs. regular butter in baking) and free of refined sugar. And to incorporate a little of the dessert wine I planned on serving in the recipe – I think this makes for a nice continuity.   Amaretti are pretty easy to find stateside now, especially around the holidays – even Trader Joe's has a version – but I'm a big fan of Amaretti di Saronno, the original.  The biscotti are delicious, and come individually wrapped like little pretty little gifts! Make sure you get the crisp not soft version.
To help draw out the juice of the strawberries, I macerate them in Brachetto d'Acqui, a lightly sweet, low alcohol wine from Piemonte. Even if you think you don't like wine on the sweeter side, you'll probably dig Brachetto. It's the gateway dessert wine. With the most amazing nose of ripe strawberries, it tastes of juicy berries and violets but has great acidity and structure to balance things out. It's often served as an aperitivo, but I happen to think it is the most perfect wine for fruit or chocolate desserts. I'm partial to the Marenco 'Pineto' bottling – it was the go-to dessert pairing at my restaurant, Ottimista, back in the day.  And I had the honor of visiting the three lovely Marenco sisters at their vineyard a few years back.  But the quality among Brachetto d'Acqui DOCG is pretty consistent, so you're safe trying whatever bottle you can get your hands on.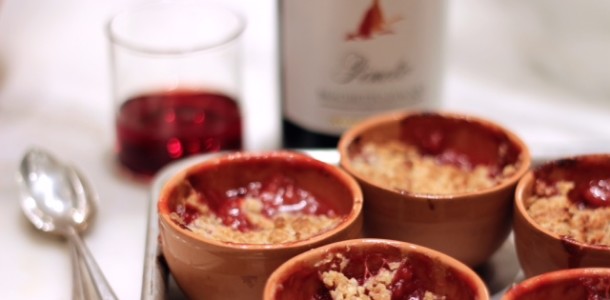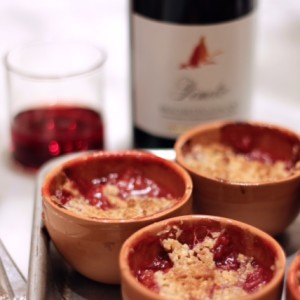 Ripe, juicy strawberries, in season, make a fantastic dessert, especially when paired with the slight bitterness of almonds.  Here they're baked under a blanket of Amaretti, the crisp, airy almond macaroon cookies that ...