Fresh cranberries are everywhere this time of year, and I love their sweet-tart punch.  Plus, they're a potent antioxidant and pack a ton of Vitamin C and fiber.  But what does one really do with them, besides make a cranberry sauce or relish for Thanksgiving (one that looks pretty, but no one really eats, that day at least, since there is already too much good stuff fighting for space on your plate)?
Determined to transform this ubiquitous but largely ignored holiday ingredient into something we'd actually enjoy throughout the season, I bought a bag of organic fresh cranberries and started experimenting with smoothies.  After a few mouth-puckeringly tart batches, I settled on lightly sweet, refreshingly tart and bright blend of cranberry + orange + cloves + cinnamon + ginger + pear.   As it turns out, the classic Thanksgiving cranberry sauce flavors translate beautifully in smoothie form.  One that we'll be enjoying around my house well beyond the holiday season.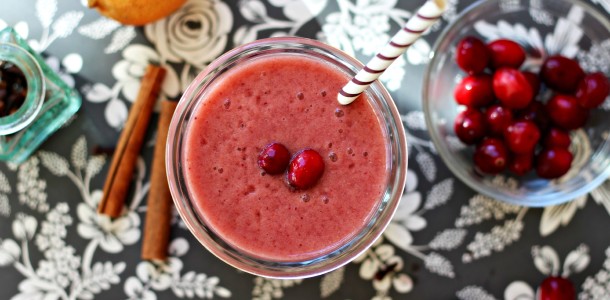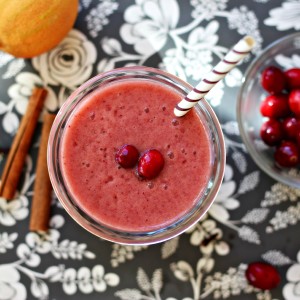 As we kick off the season of indulgence, I need my morning smoothie more than ever to feel balanced.  And man, I miss them when I'm traveling!  This smoothie captures the ...