Apple picking has been a tradition in my family for as long as I can remember.  My auntie used to take us every year when we were kids, to the orchards of Oak Glen or Tehachapi, in Southern California.  We'd come home with bushels of apples, and she'd go into apple processing overdrive.  Apple butter, apple cobbler, apple crisp, apple muffins – apples would turn up in everything, sweet and savory.  There was something very cozy and comforting about it, and it always signaled the start of the fall season for me.
So I was very excited to have an excuse to revive the tradition when I my boys were old enough.  Every fall we head to Sebastopol in Sonoma County, the heart of Northern California's apple country, for picking and picnicking in the orchard at a sweet family-run organic farm and CSA, Gabriel Farm, with the boys and their cousin Sammy.   They really get into it, and take to heart important lessons  – no wasting food (if you want to eat an apple, you have to eat the whole thing, not just a bite!), turn the apple gently to remove (so you don't destroy the bud for the next crop), no tossing apples if they're misshapen or imperfect (embrace ugly food!).  And I enjoy the challenge of figuring out how to transform the boxes of apples into lots of delicious things.
While there are the requisite sweet apple treats in the mix, a good portion of our apples go into fall smoothies.  They're good to thicken up and sweeten a variety of smoothies.  But this sweet Apple Pie smoothie is a real treat – it honestly tastes like liquid apple pie, and, except for the bright green hue, you would never know how much good stuff is packed in there.  Like the secret ingredient, frozen broccoli, which magically blends in with no brassica taste or smell.  The sweetness of the apples and kick of the ginger balance it out.  Trust me on this one – it totally works!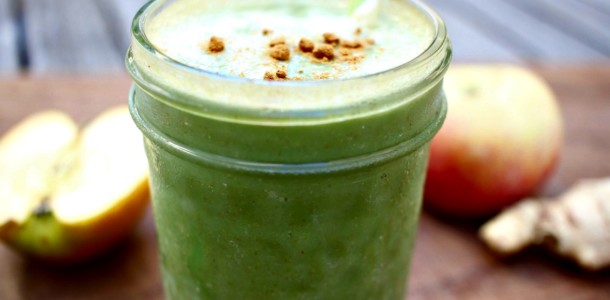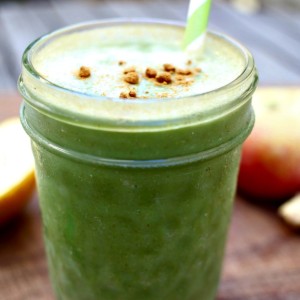 Frozen broccoli is the secret ingredient here.  It thickens and adds loads of nutrition, with no perceptible taste – the apples and ginger dominate here.  A great way to get ...