I grew up with a strong Christmas cookie tradition.  "Cookie Day" was a really big deal, planned months in advance.  We spent a full Saturday each season baking dozens and dozens of cookies with my wonderful Martha Stewart-esque aunt, who would prepare as many as eight different batches of dough in advance so that my sister and I could just do the fun stuff – roll out the dough, cut out shapes, decorate, flatten balls, roll in cinnamon-sugar, and eat.  My aunt still does Cookie Day with my sister and her two boys, now tweens who refuse to give it up.  Sadly I haven't participated in years, having flown the Orange County coop for San Francisco years ago, and thus my two little guys have yet to experience the mind-blowing OC cookie extravaganza.  I'm vowing to make that happen next year.  In the meantime, I'm trying to establish my own (scaled-down) Cookie Day tradition at home, and of course trying to find/create healthier versions of our beloved recipes.
So this year I made a date with Xander, my 5-year old, and found a promising gingerbread cookie recipe in the gluten-free baking book, Sweet Goodness, which I appreciate because it relies on whole-grain flours instead of a bunch of nutritionally-void stuff like so many GF recipes.  I tweaked things a bit, as I do, replacing refined brown sugar with coconut sugar, reducing the amount of tapioca starch, and changing out the fats.  They were delicious.  Maybe the best gingerbread cookies I've had. The texture is tender, delicate even, and the molasses-ginger-spice warmth really shines.  Kid and mom (and even cookie-averse dad) approved!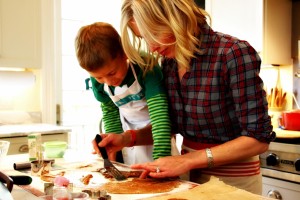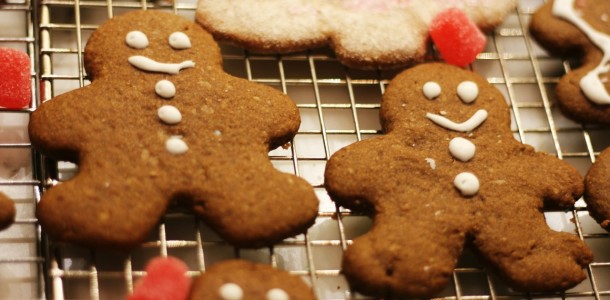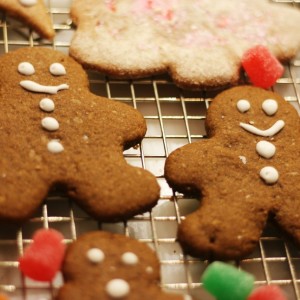 Adapted from a recipe in the gluten-free baking book Sweet Goodness, these gingerbread cookies give you everything you want (soft, delicate crumb, sweet warm spice) and nothing you don't (white flour, ...