After the Vitamix, the kitchen appliance that gets the most use in our house is the waffle maker.  I'd resisted buying one for years, dismissing it as a one-trick pony.  But then I had kids, and they grew old enough to demand waffles (or really any vehicle for maple syrup), and I caved.  And now I wonder how I ever lived without it.  Homemade waffles are amazing, surprisingly simple and can be really nutritious if you get out of the white flour rut.  I have experimented with a whole range of base ingredients, from alternative flours to nuts to beans (yes, beans – I'll save that for another post), and they're all tasty.  I've learned that you can pretty much waffle anything.
This recipe is adapted from Danielle Walker's paleo cookbook Against all Grain.  We're definitely not doing the Paleo thing, but I'm always looking for new takes on healthy, refined-flour-free baked goods, and she nails it with her bread recipes in particular.  And her coconut flour waffles, which inspired this recipe.   I love coconut flour!  Combined here with nut meal and a handful of greens, you get a lightly sweet (and green) waffle with a soft texture and a ton of fiber, protein and other good stuff.  My boys love these, and don't even ask for maple syrup (we tell them it's inside, which is true).  My husband and I prefer ours drizzled (ok, drenched) with good olive oil and sea salt.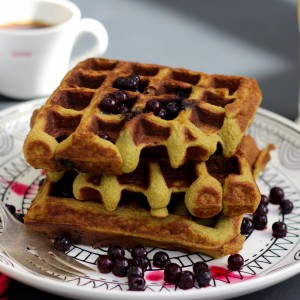 Since you prepare the batter in a blender, it's easy to sneak in a handful of greens for extra nutrition without altering the flavor or texture. They get blitzed in ...