Drink: a medium-pink rosé with a little heft, like this Fattoria La Rivolata Rosato of Aglianico from Campania.
Even as a kid, I was not a Kraft mac & cheese girl.  The neon orange color and lack of any actual cheese confused me.  Give me a layer of melty, crispy cheese on top of some cheesy noodles, and now we're talking.  But even then, I'd probably rather just have the melted cheese, or pasta with loads of salty pecorino.  So I did not rush out to create a healthier version of good old mac & cheese.  Until I had kids, that is.   My boys are pasta junkies.  They love cheese.  And while they generally like veggies, they would routinely pick out visible chunks of veggies in pasta.  So like a million clever moms before me, I figured if I could make the veggie disappear into the cheese sauce, they'd happily eat it while I smugly congratulated myself on how many servings of veggies they unknowingly ingested.
Turns out, its pretty simple to turn a number of steamed veggies into a creamy, cheesy sauce.  I've tried carrots, cauliflower, and all sorts of winter squash – Butternut is great, but my favorite is the creamy Red Kuri squash (it doesn't even have to be peeled – thin, edible skin – bonus!)  You steam the veggies, puree, then gently warm on the stove while mixing in your cheese of choice.  I use the vegan Daiya cheddar, which melts into a smooth, Velveeta-ish splendor.  Not what I generally want when cheese is called for, but spot on for mac & cheese.   Mix with cooked noodles of choice – I do gluten-free (the chickpea-based Banza Shells are awesome!) – top with some crispy crumbs and bake.  Super easy.  And so good that it elicits cheers (from the husband, too) when I announce what's for dinner.   Nobody needs to know that it is veggies (and their powerful antioxidants) behind this mac & cheese's neon glow…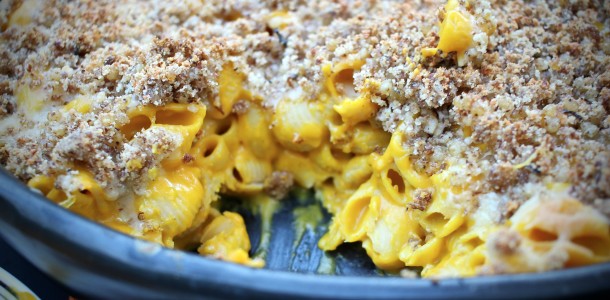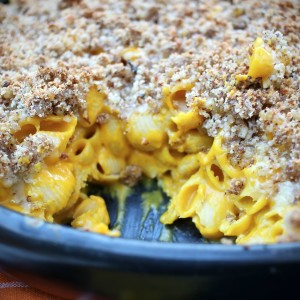 A genius way to give your kids what they want – creamy, cheesy mac & cheese goodness – while stuffing them full of what they need – veggies, protein and ...