The end of summer is technically right around the corner, yet the farmer's markets in San Francisco are still bursting with peak summer produce.  We seem to get everything late, including summer – we're just now finally getting the streaks of warm weather, without the daily fog invasion.  September is the month we look forward to, and talk about constantly, throughout the dreary, blustery days of June and July, when we pull on parkas as the rest of the country sweats profusely as one should in a proper summer.
The peaches are perfect now, plump and sweet and juicy.  Gorgeous bunches of basil are everywhere.  I love basil in a smoothie with strawberries, so I played with a variation using peaches, plus hemp seeds and goji for some heft and rosy color.  It was divine, the essence of summer.  Peaches-and-creamy goodness with a savory, slightly vegetal backbone from the basil.  An instant classic, to be repeated often in this, the golden month, while the getting is still good.
Nectarines, or a combination of peaches and nectarines, would also be good here.  Strawberries make a lovely addition as well, if you have them lying around, and help boost not only the Vitamin C content but the pretty rosy color.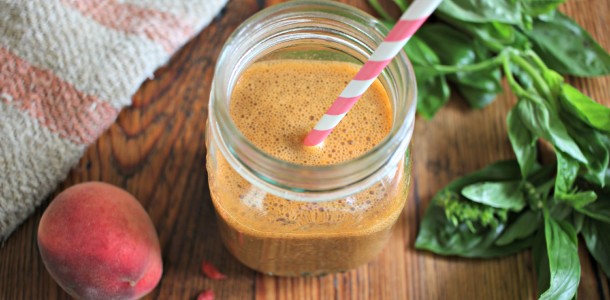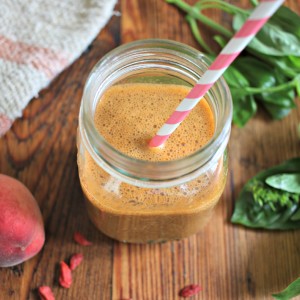 For when peaches are ripe, or even better, over-ripe, and basil is abundant.  A simple smoothie that tastes like summer. While you could, of course, sub frozen peaches for fresh, I ...