Drink: A structured, dark pink rosé, like the Calabretta Etna Rosato
We were in SoCal for a week, visiting family, and my mom hosted a little birthday party to celebrate Xander's 5th the day we arrived.  We ordered pizza, as we often do these days for these on-the-fly family gatherings, to keep it simple.  My contribution, as usual, would be some sort of big salad – but this time, one that could be prepared a few hours in advance, with little fuss, and with everyday ingredients sourced from mom's local Trader Joe's.  I picked up farro, cherry tomatoes, arugula and English peas, unsure of how it would all come together but hoping for the best.
I needn't have worried.  It was a huge hit.  Devoured long before the passable Z pizza.  Phone calls were made, explaining in detail the salad to those who missed out.  The tiny bowl of leftovers seized by the person who loves salad least.  Two hefty bowlfuls consumed by the baby.    Clearly, this was a winner that must be repeated, and shared.  So I made it again two days later, retracing my steps in order to cobble together a recipe.   I think the secret here is the slow-roasted tomatoes, which concentrate the flavor and make even mediocre grocery-store tomatoes taste amazing.  It's easy to do, but does take about two (hands-off) hours.  Just half or quarter the tomatoes, toss them in EVOO and salt, throw them in a 250°F oven and forget about them.
I'm not sure the birthday boy got any of the salad, not that he minded, given the proliferation of Lego gifts and Star Wars chocolate cupcakes.  But the rest of us enjoyed it, the surprise hit of the backyard celebration menu.  That, and my sister's marinated mushrooms, of which I ate an embarrassing amount. Stay tuned for that recipe, coming soon…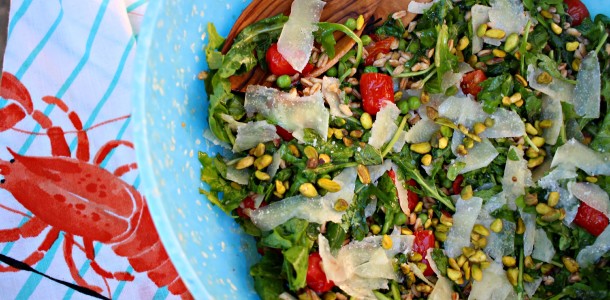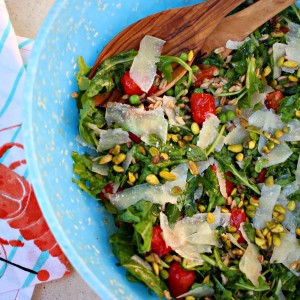 This is a super simple recipe, and can be prepared well in advance.  The flavors meld nicely as it sits.  Just don't add the arugula until ready to serve, as ...