Drink:  Bourbon, or a sweet wine with good acid and caramel undertones like a Hungarian Tokaji.  The 2004 Patricius Tokaji Aszú 5 Puttonyos is amazing and an excellent value.
Once a year on his birthday, my husband, born without a sweet tooth, wants dessert.  But not just any dessert.  He could care less about chocolate (what??), so that rules out most anything I'd pick.  He likes lemon, so we generally do some sort of not-sweet lemon cake.  But what he really loves is butterscotch pudding.  Which I never, ever make, because I have an aversion to desserts that consist entirely of cream, eggs and sugar.  But this year, bored with variations of the lemon cake, I started playing with butterscotch pudding recipes to see if I could make a healthier version that was rich, creamy and decadent enough to please the peanut gallery.
Turns out, butterscotch pudding was just begging for a makeover!  I hit upon a vegan, all-things-coconut recipe that was every bit as good as the original, using coconut milk and coconut cream as the base, coconut sugar for for sweetness, and brown rice flour to thicken.  The birthday boy and my two mini dudes gave it a big thumbs up.  Guests at a dinner party the next week licked their bowls clean.  Total win!  Especially given the fact that it is ridiculously easy to make, involves five-ish ingredients and can be made a day or two in advance.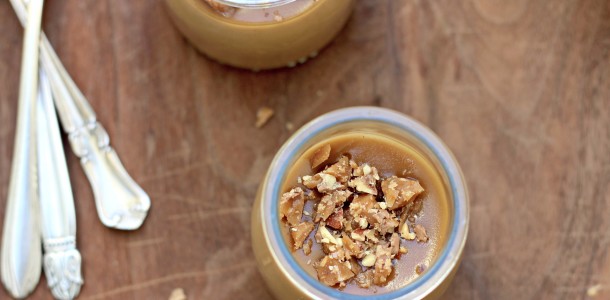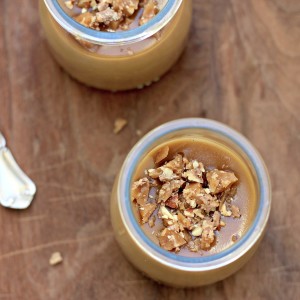 Rich, creamy and deceptively naughty, this vegan butterscotch pudding is based on all things coconut – coconut milk, coconut cream and coconut sugar.  But with only 5 ingredients, quality really ...