Drink: A rustic, old-world red like this organically-farmed Querceto di Castellina Chianti Classico.
Everybody needs a killer dish that they can whip out, practically from memory, for guests or special occasions.  One that pleases just about everyone, and doesn't stress out the host.  Preferably one that can be assembled ahead of time.  For me, this is the dish, my "famous" turkey meatballs.  Famous because I've made them so many times, at one point or another for every single person who has joined us for dinner, and they are always a hit.  Plates are spotlessly cleaned, doggy bags are requested, and the only way to ensure leftovers is to make an extra batch and tuck the dish away immediately for safekeeping.
I started with the meatball recipe from the awesome A16 Food & Wine cookbook – one of my all-time favorites – and cleaned it up a bit.  Meatball Mondays at the restaurant are legendary, but the actual recipe is way too meaty for me to replicate at home.  My version uses ground turkey, and sometimes a bit of prosciutto, if I really want to impress, along with a big bunch of parsley to lighten things up.  The meatballs get a quick roast at high heat to start the caramelization, then slowly braise in a tomato sauce/wine/olive oil cocktail, which soaks in and keeps things supremely moist.
I don't often cook meat at home, but when I do, it's very likely to be these meatballs.  They're insanely delicious and impossible to mess up.  You can make them in advance also – either shape the meatballs and refrigerate until ready to bake, up to a day ahead of time.  Or bake as directed, then cover in foil and let sit at room temp up a few hours before serving – simply reheat in a low oven for 20 minutes when you're ready to eat.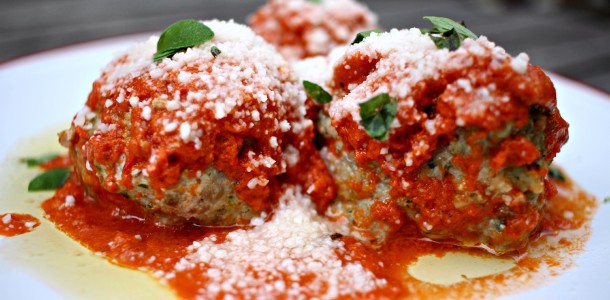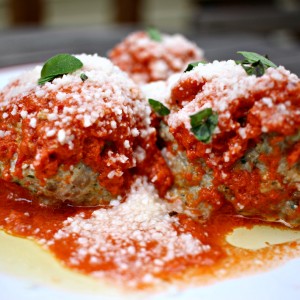 There are a million versions of turkey meatballs out there.  What makes these special is how moist and juicy they remain, despite being relatively lean.  The secret is the long ...