Drink: Quick Vanilla Hemp Milk
Little boys need snacks.  Constantly.  Ones that can travel, fit in pudgy little hands and go straight to hungry mouths without requiring adult assistance or refrigeration.  They also must be healthy, with nutritionally-dense, whole-food ingredients.  Oh, and bonus points for being nut-free, as this means they're acceptable for school lunches and class treats.  This is a tall order to fill, but these muffins manage to check all the boxes while maintaining full deliciousness.  I knew I had a winner on my hands when a dozen disappeared in less than two days, with only two kids under 5 and an au pair suspicious of my "healthy food" to blame.  The baby literally squealed in delight when he saw these come out of the oven, polishing off two in a sitting.
They're really moist, thanks to the banana and sunbutter, and don't get hard and cardboard-like in the fridge like other gluten-free baked goods have been known to do.  I do all the hard work here in a high-speed blender, as it's easy, and I like the dense texture it creates.  But you can totally use a stand or hand mixer instead.  If you do this, mash your banana first before creaming with the coconut butter and sunbutter.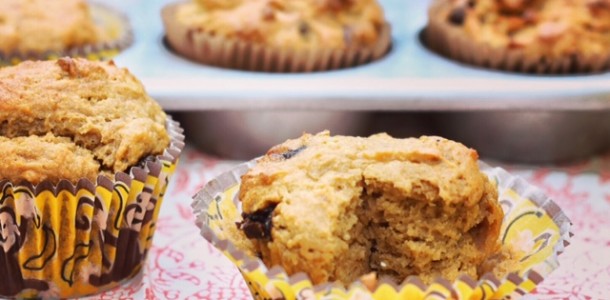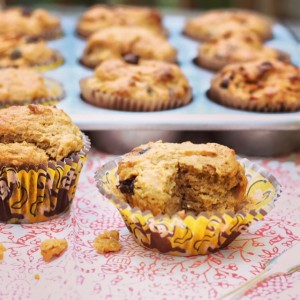 My kids love these, and devour them as if they were dessert.   But these muffins are full of fiber, protein and whole food ingredients, plus they're free of refined sugar and ...