Drink: 2013 Biondi Etna Bianco 'Outis'
A few years ago we took the whole family to Sicily for two weeks.  It still lingers in my memory as one of the best trips.  Ever.  It was stunning, of course, but also a bit rough around the edges.  This was not the Disneyland-perfect view of Italy, and I loved that.  We swam in the brilliant Aeolian sea and drank cheap (but delicious) Salina Bianco out of small plastic cups on a boat, the salt from the sea drying on our lips and mingling with the wine.  We visited winemakers on the slopes of Mt. Etna and the Western flats, basking in the warmth of their hospitality.  But most of all we ate.  I was in heaven, being in a place where vegetables, fish and olive oil took center stage in the cuisine.  And capers everywhere!  Literally.  The bushes grow wild on stone walls and in cracks in the pavement, along the seashore and in between rows of grapevines in the vineyard.   And because they make their way into so many amazing dishes of the region, they are my taste memory of the trip.
Perhaps that's why I love making this pasta dish – it transports me back to the warmth of that summer in Sicily, and the wonderful people who shared their tables with us.  But romance aside, this dish gets regular rotation in my house because it's so simple (mostly calling for ingredients from the pantry) and flexible (easily changed up with whatever veggies are lying around).  Capers are the constant – the best, salt-packed ones you can find.  Beyond that, it's a can of good olive oil packed tuna, a bag of pasta (I like brown rice or quinoa fusilli) and a few pantry items, plus whatever veggies are in season (or need to be used up).  I like shaving thin ribbons of zucchini or yellow squash, as I've done here.  I've also made it with little cubes of eggplant, red peppers and even olives, pitted.  All good.
This dish is fantastic with a un-oaked, medium-bodied white that has lots of minerality and acid to stand up to the strong flavors.  Etna Bianco is a natural if you can find it (what grows together goes together).  I love the Biondi Etna Bianco 'Outis', and I was lucky enough to visit Ciro Biondi and his lovely wife Steph on our Sicilian trip – more about that in the wine post.  An Italian Vermentino or Fiano would also be great choices.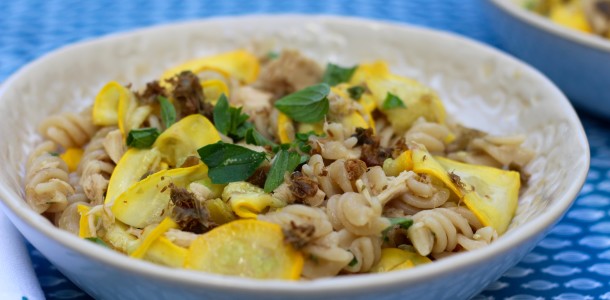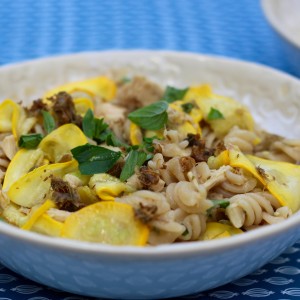 This could also be called Pantry Pasta, as it calls for ingredients you probably already have lying around.  If not, they're easily procured.  You can even leave out the fresh ...