Drink: Quick Hemp Milk
I have hundreds of cookbooks.  Literally.  I'm sort of addicted.  Can't stop buying new ones.  I read them cover to cover, like a novel, before bed usually.  I plaster them with sticky notes, tagging recipes, plotting out a meal agenda for the coming week, month, year.  I know, total food nerd, right?  The funny thing is, I almost never follow a recipe exactly.  Cookbooks are a huge source of inspiration for me, opening my eyes to new ingredients or cuisines, or fresh ways to think about the ones already in regular rotation.   Then I take a recipe and start tweaking, generally replacing ingredients with healthier options and upping the fruit/veggie/whole-food content if possible, to make it my own.   But there are a few cookbooks that are exactly my speed and prompt very little tweaking on my part (gasp!)  One of these is Rawsome Vegan Baking from Emily Von Euw of the blog This Rawsome Vegan Life.  While I do dabble in raw and vegan from time to time, that's not the primary draw here.  I love that her recipes are simple, generally calling for just a handful of pantry ingredients and very little time or effort, plus they're healthy and amazingly good for big and little people alike.
Like these peanut butter-oat bars, which I adapted slightly from a recipe in her book, adding in buckwheat flakes in addition to the oats (because I love buckwheat and the slight crunch they add to un-baked goods), and swapping out the blueberry topping for a simple raw chocolate frosting that magically hardens to a rich, fudgy ganache after a few hours in the fridge.  As I mentioned before, little boys like snacks.  And treats.  These check both boxes.  While managing to be nutritionally dense and delicious.  And mom bonus – super quick and easy to make.   Love!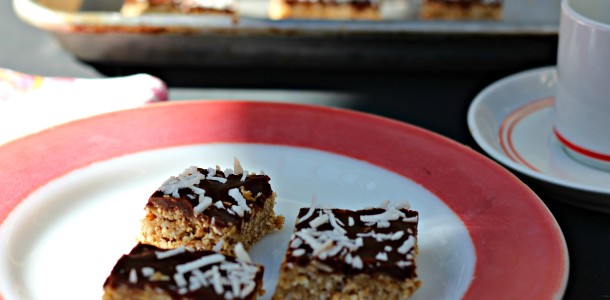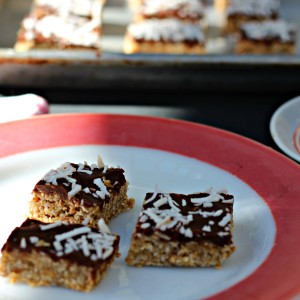 These are ridiculously easy, requiring no special equipment, no baking, and no trip to the grocery store – you probably have most of the ingredients in your pantry already.  They ...