There is something about broccoli that repels children (and many adults).  Maybe it's the slight stink, or that their first introduction is either raw florets on a crudite platter (when not even ranch dip can make it palatable), or steamed/boiled to a mushy mess (also not good).  But when done right, broccoli can be divine!  Plus it's incredibly nutritious.  So I made it my mission to figure out how to make it irresistible to kids -without burying it in some rich sauce (which defeats the purpose of getting this healthy vegetable in their bodies).  After many failed attempts, I stumbled upon the magical combination of lightly roasted broccoli, good extra virgin olive oil and nutritional yeast.  People, it seriously tastes like it is bathed in a cheese sauce.  My one- and four-year-old boys devoured it.  Even asked for it at breakfast the next morning.  No joke.    If you have veggie-averse kids (or even if you don't), run to your nearest Trader Joe's, pick up a bag of organic broccoli florets and get roasting.
Ingredient note: If you aren't familiar with nutritional yeast, it is a deactivated yeast sold in the form of flakes.  It is high in B vitamins and has a nutty, cheesy taste, so it's popular with vegans as a cheese flavor substitute.  You can find it at your local Whole Foods or natural food store, or online.  I like the Kal Nutritional Yeast brand.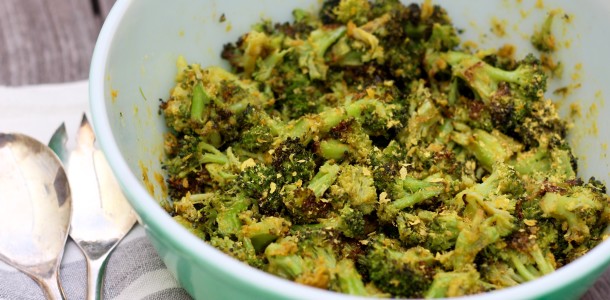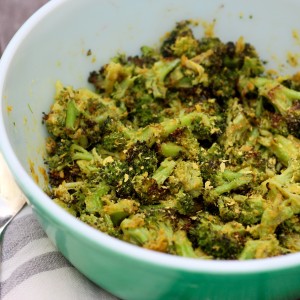 This is also great with cauliflower.  Sub 1 medium head of cauliflower for the broccoli. Makes 4 servings. Note: I usually double the recipe, as my family of 4 kills ...