Drink: a light, dry, coastal white, like this revelatory Experiència Parellada from Succés Vinícola, or a Portuguese Vinho Verde.
I love fish, and I want my kids to love it.  None of this, "Ewww!  Fish is stinky" from my babies.  So I've been serving it to them for dinner from the time they started solids, in kid-friendly preparations.  And guess what?  They love it!  Give Xander, who isn't even 5 yet, a choice of the kids-menu whatever or grilled salmon on a restaurant menu, and he chooses the salmon.  These baked fish fingers were the gateway fish dish for my  littles.  The recipe is extremely flexible – you can swap out salmon for any firm white fish, and use a variety of different crispy bits for the coating (I've made it with leftover crackers, chips, oats, quinoa flakes, even kale chips, blitzed in the food processor).  They're also super easy, can be prepared in advance and baked at dinner time, and taste pretty close to the delicious but not-so-healthy frozen fish sticks of my childhood.  Put them on a platter with little bowls of some sort of dipping sauce (like the mustardy yogurt sauce here), maybe with some sweet potato fries on the side, pour yourself a glass of a dry white wine (like this Spanish lovely, the Experiència Parellada), and watch your kids eat fish!
P.S. Fish fingers are not just for little people – my husband requests them all the time, and dips his in spicy salsa.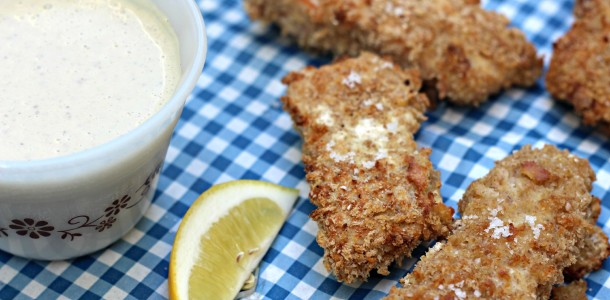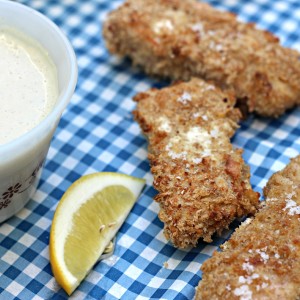 These are extremely mild and crunchy, and delicious with the dipping sauce (who doesn't love dipping?)  A perfect introduction to salmon for fish newbies or haters.  And a great way ...